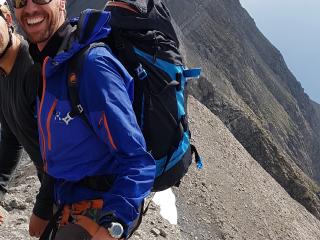 The mountains offer a unique environment for hiking. You can find sporting challenges and experience a beautiful nature at the same time. The peace of the mountains empties your head and the fresh mountain air gives you new energy.
For me it has always been this combination of activity and relaxation, of both body and mind, which drew me to the mountains again and again and eventually made me decide to live there.
It is my passion for the mountains, which I like to share with my guests as a certified walking guide. I take you to the most beautiful places, tell you how the landscape originated and how plants, animals and people live together. I take care of the practical organization and safety, so you can enjoy the walk unconcerned.
My home base is Bergell, a Swiss-Italian valley located between St. Moritz and Lake Como. A beautiful valley that not only offers endless climbing and walking opportunities, but also has inspired many artists with its picturesque landscape and villages.
I would like to invite you for a trip, here in Bergell, Engadin or anywhere in the Alps!